The term 'ex-pat' has always conjured up negative feelings for me.  I have stereotypes of over-tanned pensioners, guffawing young professionals and insular social circles, not forgetting old empirical connotations and notions of superiority.  At the end of the day what we Brits describe as ex-pats are surely as much immigrants as someone fleeing to a new country for safety or better economic prospects.  Maybe it just isn't fashionable to be described as an immigrant?
We certainly feel like immigrants here in Munich and I often reflect on my experiences and realise how little weight I gave to the difficulties of immigrants in communities I had previously lived in in the UK.  Here is a list of 6 of my personal immigrant experiences:
You feel unwelcome.

 

When things go against you in terms of housing, schooling and jobs you begin to feel like you are implicitly not welcome in the city. It is a logical sub-conscious feeling – 'there is no space in this city for my family to live, get educated, work…therefore the city does not want us here.'

 

You overcome this little by little but it can weigh heavy at times.  Those that make the extra effort to welcome you are extremely precious people.
Everything is more expensive!

 

This is because you don't understand how things work.

 

At the extreme end I nearly ended up with a €5,000 health insurance bill because I hadn't realised I'd taken two policies out when we arrived!

 

I have also picked up a few fines with cycling and driving that I would have avoided in the UK.

 

You don't have the time, knowledge (or sometimes energy) to make the most savvy consumer decisions.

 

People treat you differently and can take advantage.

 

I would advise anybody moving to a new place to add about 20% onto your budgeted outgoings in the first year.
You are overlooked for opportunities.

 

Through reduced communication ability you miss opportunities.

 

Sometimes this is because you miss the soft signs that native people take for granted, sometimes this is because people just can't be bothered to take the effort to communicate with you.

 

Personally I found being missed out of communication can make working life less fulfilling.

 

It also feels very sad when it is your children who miss out on opportunities, or are even be blamed for not doing something that we had no idea they were meant to have done!
You have fresh perspective.

 

You get to see and experience a city and country with completely fresh eyes.

 

Like the new kid in a company, although you might not know and understand the history of the place, you can see things that people who have lived here all their lives miss.

  Maybe I 

should have asked immigrants in my old communities what they saw when they arrived, and maybe I could have learnt something about myself.
You are interesting to other people.

 

You stand out, in a good way.

 

Small talk is easier because people want to know why you came here.

 

This makes making friends great fun and people can be intrigued by your story.

 

You also find a camaraderie with other immigrants even if you would normally have little in common with them.
You lose your old identity but don't fully gain a new one.  You will never fully feel at home anywhere again.  In the new place you feel like an outsider.  In the old place you feel like everything and everyone has moved on.  This can effect you on quite a deep level.  However, as a Christian it is really helpful to remember Paul's words in Philippians 3:20:
But our citizenship is in heaven. And we eagerly await a Saviour from there, the Lord Jesus Christ.
It is ok to not feel at home here on earth because our deepest longing is for somewhere else.  Whether you live in the same community for 80 years or move around every few months, the truth is that we are all just 'passing though'.  Don't put too much emphasis on national identity, finances, housing, education, being popular or even being fruitful.  God is calling us all home and we can daily keep our eyes fixed on him.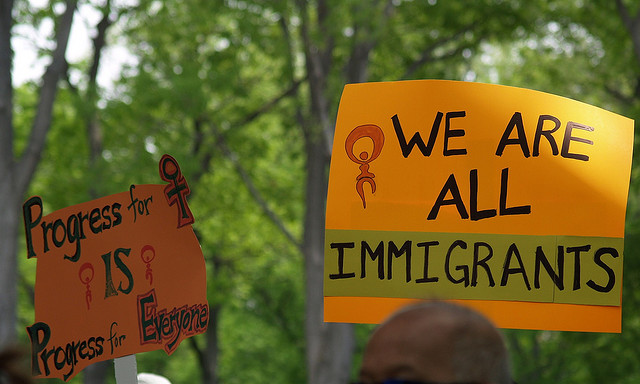 So next time you bump into an immigrant in your community (or even an ex-pat) why not ask them what life is like for them living next door to you?  What are the joys and what are the difficulties?  What do they observe?  And maybe give them an open door for practical assistance and advice and help them make the most of their time as your neighbour.